Sunday, 02/02/2020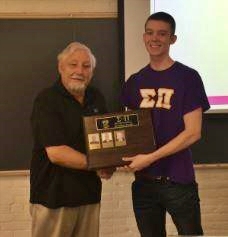 How long have you been involved in PTN?
After leaving WPI in 1971, I attended graduate school in chemical engineering at the University of Pennsylvania in Philadelphia. I loved Philly and stayed for 7 years. It was an exciting time. I had lots of fun, met my wife, Christine, bought a small house off of Rittenhouse Square, and became a big Phillies fan. However, life takes many turns. My father was diagnosed with cancer and I needed to be closer to my childhood home in Adams, MA. The best place for both Christine (computer programmer) and me to find jobs was near Boston. We moved to Reading in 1978, bought a ranch house, and have been there ever since. We had our first daughter, Amy (the Architect) in 1980 and I decided that year to get reacquainted with Gamma Iota.
What caused you to get first involved?
Joining Gamma Iota was a very important event in my life. As a freshman, I was rejected by almost all the fraternities (including Sigma Pi). I felt like a loser. I like being around people. Luckily, I kept up my friendship with my buddies from Daniels 4. They showed up during a prom weekend in my sophomore year looking for some place to stay. Mike Weill and Bruce Hillson were among the guests and they asked me if I would like to join Sigma Pi. I jumped at the chance and became a second semester sophomore pledge. I felt welcomed and owe Bernie Dodge my gratitude for encouraging me.  I never forgot how important Gamma Iota was in my coming of age. So, it wasn't a great revelation that I wanted to give back to the fraternity when I had the chance. I attended the annual meeting at homecoming in 1980 and was elected to the Board of Trustees.
Who were the trustees then?
For many years, Ed (Mole) McNamara was the PTN treasurer and exercised effective control over the budget (how things change). He had been performing that function for as long as I could remember. Jim Buss ('76) was the president. He was very organized and dedicated. I initially organized the first ever Summer Outing which was a family picnic at the Higgins House. I can still see Rich and Linda Page ('73) and their young family romping on the lawn.
What were the issues then? 
The biggest issue in the '80s was the deterioration of the Chapter House structure. The wooden clapboards were wearing and the windows were the old single-pane type. Heating bills were unacceptable. So, I volunteered to manage a project in 1986 to add vinyl siding (still there) and install the new e-glass window technology in every window. I can't recall the specific cost of this project, but it was around $60K. Interestingly, I've managed another window replacement in 2015.
Who was involved and how did things change as time went on?
I served three 3-year terms as PTN trustee. My second daughter Natalie was born in 1987 which ate significantly into my free time. By 1989 I was ready to retire from the Board. I was given a nice plaque to commemorate my efforts. I must note that I was never happy with the way Board members were nominated and elected. The procedure took place on the Saturday afternoon of homecoming weekend. Generally, many guys were inebriated by the start of the meeting and those chosen for the Board were generally young and drunk. This did not bode well for taking on the responsibility of managing the affairs of the Chapter House. Jim and Ed were critical actors in keeping things in-line.
Like most alumni, I kept track of my best friends after I left the Board, in particular Rob Byrne. When I organized a reunion of the old guys (and Lorri) in 2011, we all noticed how poorly the Chapter House was maintained. The current sage, Zack Garbowitz took me aside and pleaded for help. After that I tried to keep tabs on the Board and to help move Fr. Mike Hobson into a position of authority. He was able to put some discipline into trustee meetings and moved the annual meeting to the morning to reduce alcohol consumption. However, things continued to deteriorate and, in the fall of 2014, all hell broke loose and we lost our certificate of occupancy. Fr. Mike asked for my help and I was back on the Board in no time. We worked hard to recruit trustees that had real-life experience, especially in business, Harry Kasparian and Bruce Hillson being notable.  With a stellar Board, PTN has been able to effect major improvements to the House and to stabilize the undergraduate chapter.
How have the undergraduates changed over time?
During my undergraduate years, we were a flock of turkeys – the kind of guys that bullies like to pick on. But, we were real smart and real nice as our 50-year close fellowship shows. During my time in the '80s, the Chapter got a little "cooler". By 1989, Sigma Pi was one of the very strong houses on campus. Something went terribly wrong between 1990 and 2004. I only takes a look at the composites to see that the active chapter had dwindled to half of that from the '70s. Motorcycles and drugs are rumored to have invaded the House. Then, the fire took place and the entire brotherhood was rebuilt. I'm glad that I was mostly unaware of these events.
By 2011 the undergraduate chapter began to get strong. We even had skull members which was unthinkable during my undergraduate days. Now, it seems we're back to being good young guys who are real smart. The majors have changed a lot. Where my friends and I crawled under our cars to replace a transmission, today the guys are into electronics and computers.
In your opinion, what does PTN need going forward to be sustainable?
I can't emphasize enough that a strong Board of Trustees is the most important key to the success of PTN. First, we need a dedicated president. Next, there needs to be a few folks with real-world business experience. Securing a loan should not be a daunting task. Writing construction contracts should be second-nature. Beyond that, we need energy on the Board to carry out various alumni activities that include outreach via the Gamma Iota News, maintenance of the PTN website and our alumni contact list, periodic gatherings, and reunion events. Further, we need members who can manage or assist in our fundraising campaigns. We certainly need supplemental funds to keep ahead of the ever-increasing maintenance requirements.
What has been the most and least rewarding part of being a trustee?
The least rewarding part of being a trustee is being exposed to some undergraduates who show disrespect for the Chapter House, treating this important structure as a dormitory with a party room. Fortunately, there have been a limited number of these brothers.
The most rewarding part of being a trustee is the opportunity to reconnect with old and loyal friends and to attempt to impress upon the young brothers that they too could experience the same degree of relationships in their futures. It also gives me an opportunity to be a role-model for young brothers.