Psi Theta Nu (PTN) Corporation is the housing corporation and alumni organization of the Gamma Iota Chapter of Sigma Pi Fraternity International at Worcester Polytechnic Institute.
Purpose
The charter of PTN is to maintain a chapter fraternity house at WPI in Worcester, Massachusetts., for the use and comfort of the Gamma Iota Chapter of Sigma Pi Fraternity, and to do any and all things incidental thereto permissible under Chapter 180 of the Massachusetts General Laws, including and holding, owning and leasing of real estate; to create and foster literary, fraternal, and social interaction among the alumni members and undergraduate brothers of WPI who are initiated members of Sigma Pi Fraternity.
History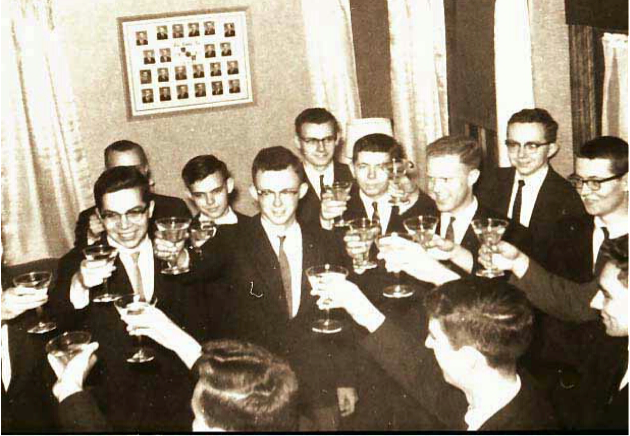 Gamma Iota chapter began in 1963 as Psi Theta Nu Fraternity, a local fraternity at Worcester Polytechnic Institute.  It received its charter from Sigma Pi Fraternity on May 1, 1965.  The first house was located at 34 Hackfeld Road before it relocated to its current location at the corner of Dean Street and Institute Road.  
The picture above was taken from the stairway in the original chapter house at 34 Hackfeld Road.  Starting at the bottom center and proceeding clockwise are brothers Bill Wharton, Dick Reynolds, ?????, Ken (Moose) Allard, Bob Towle, Jeff Cheyne, Wayne Eddy, Dick Stone, Chuck Frary, Allen Sweet, Paul Sroka, and John Stone.  Our best guess is that Ken Brown took the picture.   Do you have more information about this picture?  Please contact Paul Exner.
Can anyone name the members in the picture below: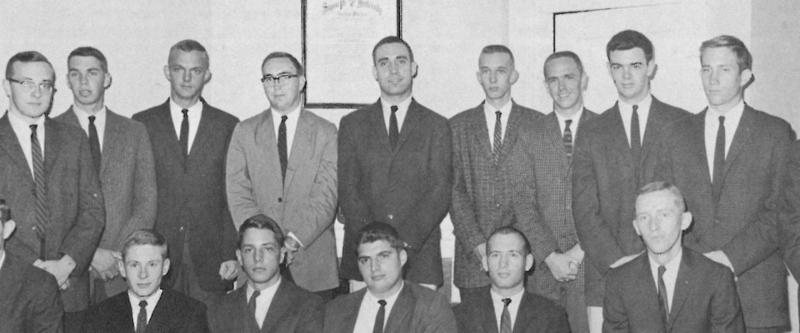 The picture below was taken during the 50th anniversary celebration.

Trustee Elections and Board Meetings
Psi Theta Nu Corporation is governed by a Board of Trustees elected from eligible members of PTN. The Board meets quarterly usually at the Chapter House. Election of members of the Board of Trustees are conducted during the Annual Meeting now scheduled to coincide with the WPI Alumni Weekend every spring which usually takes place shortly after annual Commencement weekend.