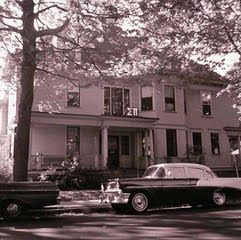 When
Thursday, 05/31/2018 - Sunday, 06/03/2018
Where
At various locations around the WPI Campus
Description
Schedule of Select Alumni Weekend Events

| Description | Location | Date and Time |
| --- | --- | --- |
| Sigma Pi Open House | 17 Dean St | June 2, 12-5PM |
| PTN Annual Meeting | 17 Dean St | June 2, 1-2PM |
| Class of 1973 Reception | Rubin Campus Center, First Floor | June 2, 530-830PM |
| Other Class Year Reception |   |   |
| WPI After Hours event | WPI Quad | June 2, 8-11PM |
The chapter house will be open for tours from 12 to 5PM.  Sandwiches, snacks, and refreshments will be available.  Come take a tour, gaze at the sprinkler system up above where drop ceilings used to be, and see what else has changed and what has managed to stay the same.
The PTN Annual Meeting will be held on Saturday, June 2nd from 1 to 2PM at the chapter house.
This year we are adding an evening reception/buffet dinner for PTN members and guests.  WPI is allowing all Sigma Pi alumni to join the Class of 1973's reception/dinner on campus.  We, most likely, will represent a high percentage of those attending that reception.  This reception is from 5:30 to 8:30 PM with activities around the Quad from 8 to 11 PM.  In order to attend, you have to do the following.
Class of 1973 - Register online or mail the form to WPI
Class other than 1973 - Register online or mail the form to WPI.  In the "WPI Class of" area, put "Class of (your year) attending Class of 1973".  It's best to register online because there is not enough room on the mail-in form.
The WPI schedule can be found here: Alumni Weekend Schedule
Please go to https://www.psithetanu.org/form/alumni-weekend to let us know your plans to attend.  This registration page is for PTN planning purposes only. 
Sigma Pi Alumni Attending

| Name | WPI Class Year |
| --- | --- |
| Alan Berg | 1968 |
| Robert Byrne | 1971 |
| Paul and Christine Exner | 1971 |
| Lorri Lind Caruso Byrne | 1973 |
| John & Chris Dewar | 1973 |
| Phil Fahlman | 1973 |
| Ken & Andrea Johnson | 1973 |
| Harry Kasparian | 1973 |
| Jeff & Kristin Korn | 1973 |
| Barry & Elizabeth Mendeloff | 1973 |
| Rich & Linda Page | 1973 |
| Henry Siegel | 1973 |
| Joe & Jane Staszowski | 1973 |
| Dave Brownell | 1988 |
| Chris & Susan Lanctot | 1988 |
| Joe Mann | 2008 |
| Justin Pelkowski | 2008 |